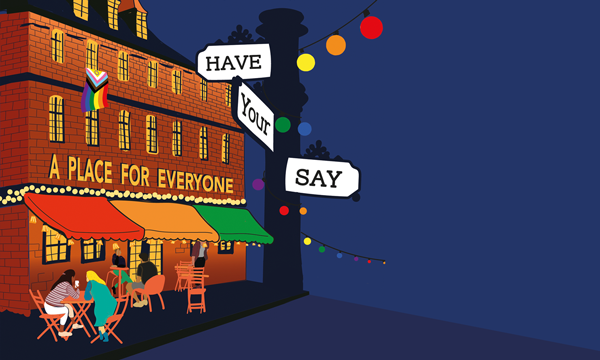 October 2022
We are teaming up with the Wandsworth LGBTQ+ Forum for a workshop to come up with new ideas so we can better support the community at night.
We know Wandsworth has no dedicated LGBTQ+ spaces, which will be recommended in the strategy. But we also want to better understand the broad range of experiences people have out and about after dark and use the session to explore what a safe (and fun) night in Wandsworth looks like.
Be part of the conversation and help draft some co-created recommendations!
Join us: Tuesday 1st November 2022, 6.30-8.20pm Battersea Arts Centre, Lavender Hill London SW11 5TN
Please note: Battersea Arts Centre is a fully accessible venue. Snacks will be provided and the bar will be open for anyone who'd like to stay for a drink afterwards.
Banner image (a place for everyone illustration) designed by Isa Bascuñana